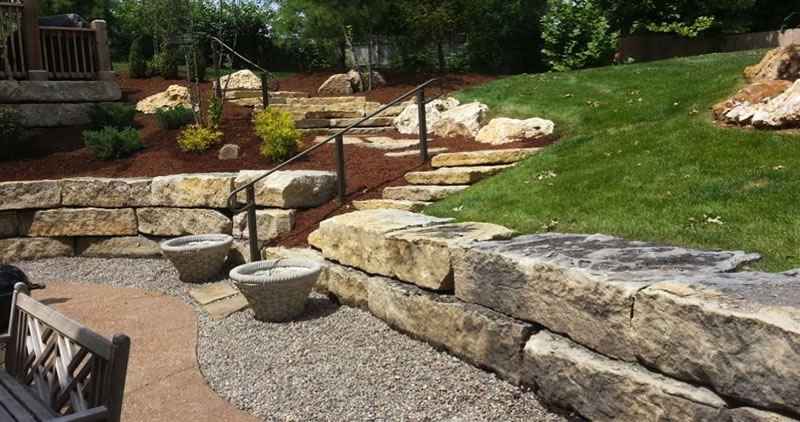 Retaining Wall Construction In St. Louis, MO
We specialize in building functional retaining walls.
Do you have a sloped property?  Are you looking for more definition or separation in your landscape?  Maybe you'd like to reclaim more of that sloped land for a new patio, a pool, or to line the side of your driveway or front steps?  Retaining walls are a great way to enhance both the look and the function of your landscaping.
Retaining walls let you carve out functional outdoor spaces into sloping and otherwise unusable property.  Made out of a variety of building materials retaining walls can compliment your landscaping and increase your properties curb appeal while adding separation and dimension to your landscape
Irreco LLC is a full service landscaping contractor serving St. Louis, Missouri.  We specialize in the design and construction of retaining walls using brick, rock, block, and even concrete for both residential and commercial properties in need of a solution to use their sloped or uneven land.
From a 40′ foot long stacked block retaining wall to hold back a terraced garden to large retaining walls to carve out more of your backyard on a sloping property.  The team at Irreco will be able to provide a retaining wall solution that will benefit your specific property and meet your specific needs.
Retaining Wall Projects We've Completed
Do Retaining Walls Require Building Permits in St. Louis?
The answer is some retaining walls do need building permits and some retaining walls don't!  Clear as mud?  Let us go into a little more detail and we'll explain what needs a permit and what doesn't.
Your retaining wall will require a building permit if the following conditions are present:
The retaining wall will exceed 3' (3 feet) in height.
The wall exceeds 2' (2 feet) in height and supports a surcharge load (driveway, pool, or similar structure).
The wall is located less than or equal to its height from the property line.
The wall has a fence or guardrail on top of the wall and the total height of the wall from the lowest grade to the top of the fence/guardrail exceeds 6'.
If you are installing an "engineered" retaining wall (which we do install) then the designs are already pre-approved (up to 6' (6 feet) in height) but you still need to have a building permit for the project.
Note: Retaining Walls (including walls that do not require a building permit) shall not block or affect an existing swale or drainage path in a manner to cause damming and ponding.  The contracting municipality, if applicable, must always be contacted for zoning approval regardless of whether a building permit is required through St. Louis County Department of Public Works.
These guidelines are taken directly from the St. Louis County Public Works Website:  View The Complete Retaining Wall Requirements Here.
Proper Drainage For Your Retaining Wall
While retaining walls are designed and built to hold back earth they will also hold back and channel water, this isn't a good thing as water and poor drainage is often the leading cause of retaining wall failure.  The water that builds up behind a retaining wall is referred to as "hydrostatic pressure" and the external force of the material/fill held behind your wall coupled with the weight of the water is often enough to seriously compromise the integrity of your wall and cause failure and collapse.
A good drainage system should be an integral part of any retaining wall design.  Depending on the type of material being used to build the wall there are a variety of ways to integrate sufficient drainage such as weep holes, lateral drains, blanket drains and also the use of very granular soil or fill.
Don't underestimate the external forces that are being applied to your retaining wall as there are many retaining walls throughout our area that have failed due to poorly thought out or non-existent drainage.  Don't let your contractor make this mistake!
Rebuilding Or Replacing Retaining Walls
While many of the retaining wall projects we are called upon to complete are new retaining walls we are also called on quite a bit to repair, rebuild, or replace existing retaining walls that are collapsing, sagging, or failing in some way.  Whether it's tearing out an old wood retaining wall and replacing it with block, fixing drainage issues, or rebuilding a wall to handle a surcharge load our team can help you.
Retaining Wall Materials
There are many different materials to build your retaining wall from, we've just listed some of the more popular in our area because of their availability.  If you have an idea for a retaining wall and you don't see the materials listed here please give us a call or use our contact form and we'd be happy to try and source them for you.
Gravity or "Lock" Block:  These are a very popular retaining wall choice for large retaining walls either spanning for a great distance or over several terraces.
The large rectangular concrete blocks are stacked on top of each other and through gravity and the eventual settling of the surrounding soil they make an excellent retaining wall.  Locking concrete blocks are obviously very heavy and can only be moved using heavy machinery which can add significant cost to the project even though the blocks themselves are relatively inexpensive.
Boulder Retaining Walls:  Boulders make a very strong statement and much like gravity blocks their sheer size is what gives them an edge as retaining wall construction material.
The natural look of stone if appealing and no two boulders will be alike giving you a very unique appearance to your wall.  Retaining walls built with boulders will also require the use of heavy machinery which will add to the cost of your project.  Boulders are purchased by the ton and are available in good supply locally.
Concrete Retaining Walls:  For a very modern and clean look many property owners choose to use concrete for their retaining walls.  When using concrete we must construct wood forms so that the concrete can be poured or pumped into the retaining wall form.
Walls with many complex curves or that are very long can require extensive formwork which is quite labor intensive.  One of the benefits to concrete is that it can be colored or even stamped on the outer surface to enhance the appearance and make it appear like stone blocks, or wood or other materials.
Landscaping Block Retaining Walls:  This is probably one of the most common retaining wall materials because of it's pleasing looks, availability and affordability.  These retaining walls are usually also "engineered" meaning they are much easier to get approved for building permits.  Landscaping blocks are usually used to build retaining walls that are under 6′ feet in height.  They are available in different shapes with decorative colors and even texturing.
The stackable blocks or stones are made of concrete and usually have a decorative finish on the front side and then a small lip on the back. The lip fits into the block below it to form an interlocking joint that can withstand the external forces of your soil and fill pushing against it.  The blocks are often slightly wedge shaped to make it easier to create curved retaining wall designs.
Fieldstone Retaining Walls:  This style of retaining wall is very popular for it's aesthetically pleasing looks (it's pretty tough to beat the looks of a natural stone wall!).   Fieldstone retaining walls are not necessarily the best choice for very high retaining walls because they are simply too light of a material to hold back that much earth.
They are however an excellent choice for retaining walls that are under 6 feet in height and more decorative in nature.  There is a wide variety of fieldstone available locally and they can come in various shapes and sizes from round river rock style stones to very flat, flagstone type stones.
---
How Our Retaining Wall Construction Process Works
When building a retaining wall on your property that is designed to hold back tons of soil and earth there is very little margin for error so we work directly with geotechnical engineers if your wall is over 3 feet in height.
We start with our initial consultation.
We determine how many feet of retaining wall you need.
We determine the height of the wall and if a building permit or engineer will be required.
We consult with you on the materials you'd like your retaining built with.
We'll provide you with an accurate written estimate for the work.
We'll get to work on the schedule start-date and build your new retaining wall.
The end result will be a beautiful new retaining wall on your property.
The amount of work required to build a retaining wall can vary widely from project to project.  The slope of your property, the amount of earth your retaining wall must hold back, any surcharge load on top of the retaining wall, and the overall accessibility of your property will all contribute to the final cost.
We'll be able to offer you an accurate estimate only after a site visit.
Why Choose Irreco For Retaining Wall Construction?
We understand that you have many landscaping contractors to choose from throughout St. Louis.  We just want you to know that when you choose to work with Irreco you are partnering with a small, locally owned business that has many years experience implementing retaining wall solutions into properties just like yours.
You can expect knowledgeable, reliable service from our employees and a company that cares about your properties appearance and our local reputation.
If you'd like to get the process started then please give us a call (314) 246-0099 or fill out our online contact form and we'll get back to you right away (usually the same day).
We can then organize a time for one of our landscaping experts to visit your property and assess it, take accurate measurements, answer any questions you might have about retaining walls and then provide you with a competitive estimate to build your new retaining wall.