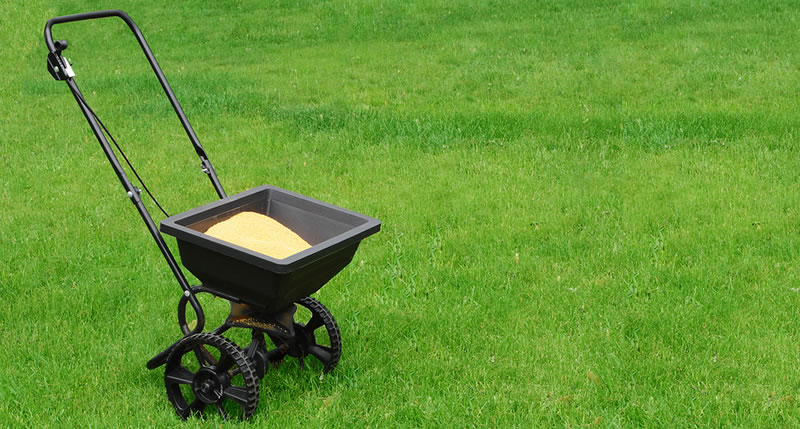 Lawn Fertilization And Weed Control Services St. Louis, Missouri
We specialize in lawn fertilizing and weed control for healthy growth.
The nicest looking lawns throughout St. Louis usually have a couple of things in common.  First, they are usually properly maintained by lawn care professionals who know exactly how to care for a lawn and secondly they are probably implementing some type of regular feeding and fertilization program along with proper weed control to keep the lawn in a very healthy, lush, green state.
Irreco LLC is a full service lawn care and lawn maintenance company based out of St. Louis, MO.  We specialize in providing complete lawn care services including lawn fertilization and weed control for both residential and commercial customers. We provide our lawn fertilization and weed control services as part of our regular lawn care programs or as a standalone service.
We can provide lawn fertilization and weed control for properties like HOA's, townhomes, condos, and other residential developments and also for commercial properties.
Weed Control & Lawn Fertilization Services St. louis
Scheduled lawn fertilization
Commercial lawn fertilization
Public facility lawn fertilization
Weed pulling services
Weed spraying services
Weed removal from gardens
Dandelion spraying/removal
Crab Grass spraying/removal
Noxious weed removal
Lawn assessments and consultations
What Fertilizer Does Your Lawn Really Need?
Like all plants, your lawn thrives on the availability of certain elements.  Those elements are NPK.  This stands for Nitrogen (which is good for lush green vegetative growth), Phosphorus, and Potassium.  Your grass requires these elements along with many other trace elements in varying amounts throughout the year.
For example, in the spring when rapid growth is happening very quickly your grass will need lots of Nitrogen. Knowing this important balance of nutrient requirements throughout the seasons makes a big difference in how effective your lawn fertilizing strategy will be.
Fertilizer isn't just a one time thing either… If you want a healthy looking lawn then it needs to be fed regularly usually in 4-6 week intervals for the best results.  There are literally thousands of lawn fertilizing products on the market but there are only a select few that work exceptionally well in our climate in St. Louis.
Why Does Your Lawn Need Weed Control?
When your lawn is overgrown with weeds the weeds will eventually choke out the grass by taking away the available water and nutrients.  The result is patchy, dead or dying brown grass and an inconsistent appearance in your lawn.
Our weed control and lawn fertilizing programs are not a one-size-fits-all solution.  We custom tailor our weed control and fertilization packages to your specific property and the specific needs of your grass.
A lawn that is growing strong and healthy will actually prevent weeds from growing because the weeds won't be able to compete for nutrients or sunlight.
Why Choose Irreco For Lawn Care & Maintenance?
We understand that you have many lawn care companies to choose from in the St. Louis area.  We just want you to know that when you choose to work with Irreco you are partnering with a small, locally owned business that has many years of experience keeping St. Louis properties looking their best.
You can expect knowledgeable, reliable lawn care services from a company that cares about your properties appearance and our local reputation.
If you'd like to get the process started then please give us a call 314-246-0099 or fill out our online contact form and we'll get back to you right away (usually the same day).
Our Premium Lawn Care Program
Starts @ $49.00 Per Application Based On 5000 Sq. Ft. lawn
Early Spring

Quick release fertilizer for early green with blanket ester herbicide to knock down cool season weeds.

Late Spring

Season long time release fertilizer, season long crabgrass preventer and spot treatment of weeds.

Early Summer

Specially formulated herbicides to eliminate stubborn weeds without harming your lawn.
Late Summer

Heat guard fertilizer with iron to green up your lawn without causing summer burn and spot treatment of weeds.

Early Fall

Root stimulator fertilizer to promote new grass growth and crabgrass spot treatments if needed.

Late/Fall Winter

Winterizer fertilizer helps lawns survive a harsh winter with spot treatment of cool season weeds.
Core Aeration
$97
/ Per Visit
Reduce Soil Compaction
Increase Oxygen Levels
Improved Nutrient Intake
Improved Water Intake
Fall Overseeding
$95
/ Per Visit
Custom tall Fescue Blend
Heals Dead Or Stressed Areas
Recommended Every Year
Compliments Lawn Aeration
Home Shield Pest Control
$35
/ Per Visit
Stop The Intrusion Of Pests
4 Foot Perimeter Around Home
Kills and Repels, Ants, Fleas, Ticks, Beatles, Spiders, and More.
4 Applications Per Year
Lawn Pest Control
$45
/ Per Visit
Complete Pest Control For Lawns
Controls Ants, Armyworms, Cutworms, Sod Webworms, Billbugs, Fleas, Crickets, Mites, Ticks, Beetles, Chinch Bugs, Grubs, Spiders, Aphids, and More
4 Applications Per Year