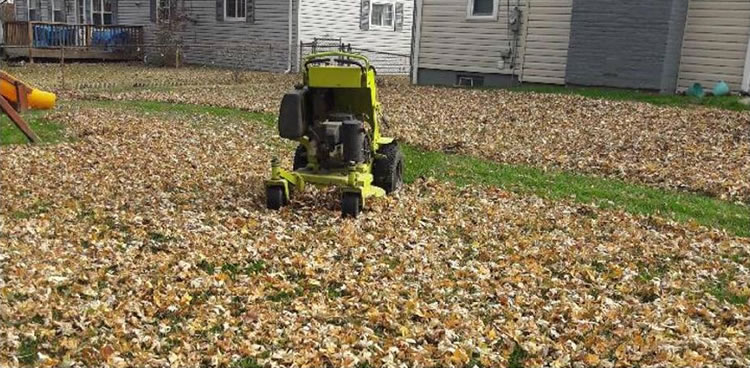 Leaf Cleanup Services In St. Louis, Missiouri
We can cleanup and dispose of all your leaves.
Do you have a serious leaf problem on your property when the fall weather hits and the winter weather begins to set in?  Depending on how many trees you have on your property or surrounding your property you may have a substantial problem that is just too much for you to handle.
Irreco LLC is a full service landscape maintenance company serving the St. Louis, Metro.  During the fall one of the services we specialize in is leaf cleanup and removal from lawns, garden areas, and hardscapes such as driveways, decks, and patios.
Leaf Cleanup Services Include:
Collection of leaves
Blowing out of garden beds and hard surfaces
Bagging of leaves, mulching, or disposal
Municipal Leaf Pickup & Disposal
St. Louis has a robust street cleaning program and part of this program also deals with the collection of leafs.  They still must be raked up and removed from your property and then piled on the street approximately 1.5 feet from the curb.  The leaves can the be cleaned up using proper equipment and mulched for compost.  Your municipality may have different requirements or the area you live in may not offer municipal street cleaning.  In both cases the home or property owner is still responsible for collection of the leaves.
If you want to take advantage of your municipalities leaf collection program we can get your leaves off your property and curbside to make collection much easier and you won't have to lift a finger, we'll do all the work!
Leaf Bagging Service:  Our crews can first blow the leaves out of all your garden beds and hard surfaces and onto your lawn.  We then use one of our commercial lawn mowers to cut the lawn and collect the leaves at the same time.  They can then be hauled away in one of our trucks or dump trailers.
Leaf Mulching Service: Our crews will still blow the leaves out of all garden beds and off all hard surfaces and onto your lawn.  We then use one of our commercial lawn mowers to cut the lawn and mulch the leaves.  They can be bagged up and removed, or left on the lawn in their mulched up form.  (this is not recommend but can more affordable).
Why Should You Clean The Leaves Off Your Lawn And Garden Beds?
It's a good idea to collect and remove the leaves from your property if you want your landscape to remain healthy.  If leaves are allowed to blanket your lawn areas and collect in your garden beds they will do a few things.
 They will block light and oxygen from reaching your lawn or garden soil.
 As they decompose they can attract mold and other bacteria that can be harmful to grass and plants.
It's true that composted or mulched leaves can help fertilize your lawn but it really depends on the circumstances as well.  In a perfect world the leaves would be mulched and evenly distributed across your lawn.  This removes the piles of leaves which can create the problems we've noted as above such as blocking light, oxygen and attracting mold and disease.  This is especially true for areas of your lawn or garden that are dark and don't get much sunlight, under trees, bushes and in corners of your garden next your home.  Leaves should be removed from these areas.
If you want your lawn and garden beds to have a well maintained and clean appearance then removing all of the leaves during the fall will keep it looking healthy and clean.
Why Choose Irreco LLC For Leaf Removal Services In St. Louis MO?
Irreco has the equipment and manpower to cleanup leaves on all sizes of properties.  From your lawn to your garden beds we'll be able to remove the leaves and we can either put them in piles curbside for disposal with your municipal leaf collection program or we can mulch them and take them to a proper composting facility.
Keeping your property healthy and looking it's best is our teams top priority.  If leaves are creating an unsightly mess of your landscaping and gardens we're happy to help!
If you'd like to receive an estimate for leaf collection and removal from your property please give us a call (314) 246-0099 or fill out our online contact form and we'll get right back to you.