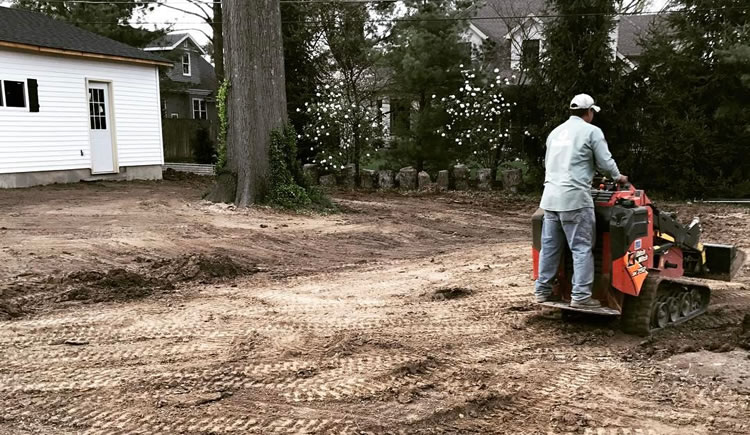 Lot and Property Grading Services in St. Louis, MO
We specialize in grading lots and properties for proper drainage.
Do you have a large piece of residential or commercial property that requires some excavation and site work before it can be fully developed?  Are you concerned with the site conditions of your property with regards to drainage and how it might affect your lawns and gardens after heavy rain-fall?  We can properly grade your property to avoid drainage issues and make lawn and garden installation easier and less costly.
Irreco LLC Is a full-service landscaping contractor based out of St. Louis, Missouri.  We specialize in property grading services for homeowners looking to install new lawns and gardens or correct drainage problems with their property.  Whether you're clearing a site to build a new brick patio, repair drainage issues, want to clear out the brush on your property and reclaim lost land, or you're getting ready to install a new lawn we can help properly prep and grade your site.
Lot and Property Grading Services St. Louis MO
Lot clearing
Tree removal
Driveway clearing
Access road clearing
Berm, bank, or swale creation
Top soil spreading and leveling
Why Choose Irreco LLC For Property Grading Services in St. Louis, MO?
When you choose Irreco LLC to provide lot or property grading services in St. Louis you are partnering with a team of professionals who will care for and maintain your property as if it were our own.  You can count on great communication, reliable service, and fair prices.
Our team takes great pride in the work they do and we listen to the needs of each and every customer as no two properties are alike.  You can count on us getting your new lot or property into shape and with proper slope and drainage in place for whatever construction projects you've got planned.
If you'd like to receive an estimate for lot or property grading services from Irreco LLC please give us a call (314) 246-0099 or send us an email through our contact form and we'll get right back to you.