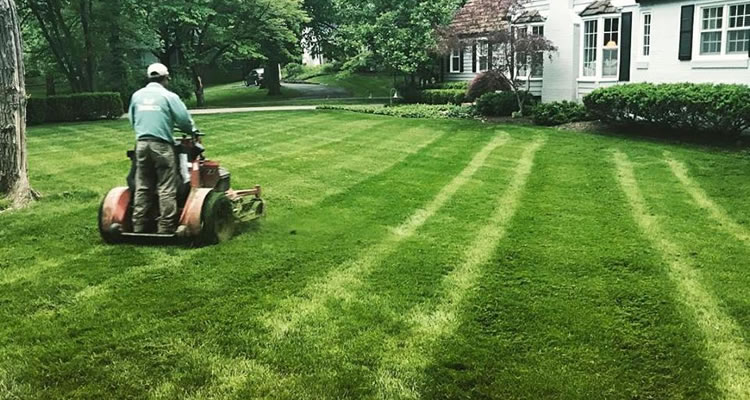 Want The Most Beautiful Lawn In Your Neighbourhood?
We provide complete lawn care services for residential and commercial.
Everybody wants a beautiful, healthy, and lush green lawn but it isn't going to happen out of pure luck.  A beautiful looking lawn begins with a professional and regular lawn care with a proven routine right from the very start.
If your goal is to have one of the best looking lawns in your neighborhood you're going to need to partner up with a lawn care specialist who knows and understands how to properly care for and maintain your lawn to a high standard.
Irreco LLC is a full service lawn care and lawn maintenance company based out of St. Louis, MO.  We specialize in providing complete lawn care services for both residential and commercial customers in the St. Louis Metro.
From installing the original lawn to fertilizing, to aerating and mowing the grass regularly the team at Irreco will get your lawn into beautiful shape while you spend your time doing something you enjoy more than mowing your lawn and worrying about it's appearance, leave that to us!
Lawn Care & Maintenance Packages Include:
*Important Note:  It's not always possible for us to transform an otherwise dead or neglected lawn into something beautiful once again.  If your lawn is too far gone or it's more than 50% dead or dying then we'll need to discuss installing a new lawn either using sod or planting grass seed to get started on the right foot.
How Our Lawn Maintenance Packages Works
We aim to provide complete lawn care and landscaping packages for our customers.  If you need any services related to the lawn or landscaping on your residential or commercial property we'll be able to take care of it quickly.  Our initial consultation will cover everything in detail so we can move forward with a solid plan.
We start with our initial consultation.
We will listen to your requirements, making any necessary suggestions.
We will view your property/grounds and determine the scope of work.
We will take any measurements to help aid in our estimate.
We will provide you with a written estimate to complete the work.
We show up on the scheduled day(s) and mow and maintain your lawn as promised.
The end result is a well maintained lawn and landscape that will look clean and well cared for.
To give you an accurate estimate we'll need to visit your property and discuss your lawn and landscaping vision for your property.  The final cost of our total lawn care packages will be determined by the size of the property, the nature of the services we're performing and how frequently they will be required.
Why Choose Irreco For Lawn Care & Maintenance?
We understand that you have many lawn care companies to choose from in the St. Louis area.  We just want you to know that when you choose to work with Irreco you are partnering with a small, locally owned business that has many years of experience keeping St. Louis properties looking their best.
You can expect knowledgeable, reliable lawn care and landscaping services from a company that cares about your properties appearance and our local reputation.
If you'd like to get the process started then please give us a call 314-246-0099 or fill out our online contact form and we'll get back to you right away (usually the same day).
Our Premium Lawn Care Program
Starts @ $49.00 Per Application Based On 5000 Sq. Ft. lawn
Early Spring

Quick release fertilizer for early green with blanket ester herbicide to knock down cool season weeds.

Late Spring

Season long time release fertilizer, season long crabgrass preventer and spot treatment of weeds.

Early Summer

Specially formulated herbicides to eliminate stubborn weeds without harming your lawn.
Late Summer

Heat guard fertilizer with iron to green up your lawn without causing summer burn and spot treatment of weeds.

Early Fall

Root stimulator fertilizer to promote new grass growth and crabgrass spot treatments if needed.

Late/Fall Winter

Winterizer fertilizer helps lawns survive a harsh winter with spot treatment of cool season weeds.
Core Aeration
$97
/ Per Visit
Reduce Soil Compaction
Increase Oxygen Levels
Improved Nutrient Intake
Improved Water Intake
Fall Overseeding
$95
/ Per Visit
Custom tall Fescue Blend
Heals Dead Or Stressed Areas
Recommended Every Year
Compliments Lawn Aeration
Home Shield Pest Control
$35
/ Per Visit
Stop The Intrusion Of Pests
4 Foot Perimeter Around Home
Kills and Repels, Ants, Fleas, Ticks, Beatles, Spiders, and More.
4 Applications Per Year
Lawn Pest Control
$45
/ Per Visit
Complete Pest Control For Lawns
Controls Ants, Armyworms, Cutworms, Sod Webworms, Billbugs, Fleas, Crickets, Mites, Ticks, Beetles, Chinch Bugs, Grubs, Spiders, Aphids, and More
4 Applications Per Year