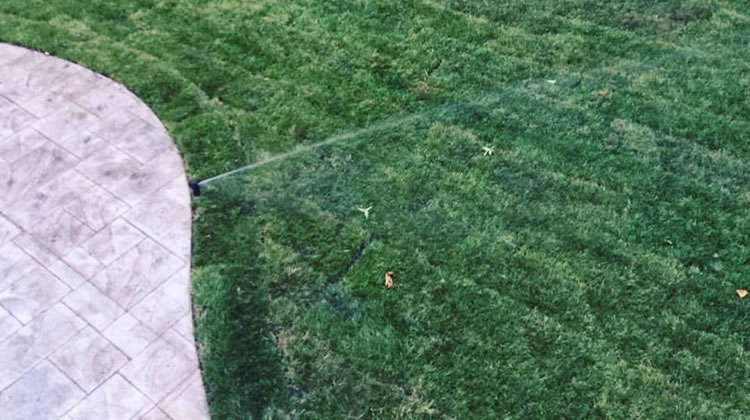 New Lawn Installation St. Louis, MO.
We install new lawns using sod or seed
Are you building a new home or renovating your St. Louis, MO property and want a nice, beautiful, lush green lawn?  Maybe you've purchased a home or property and the existing lawn areas are in poor shape?  Whatever your reasons for wanting a new lawn you've come to the right place.
Irreco LLC is a full service landscaping company based in St. Louis, Missouri.  We specialize in the planning and installation of new lawn areas for new construction projects and property developments.  If you need a new lawn installed on your property we can take care of everything from site prep and properly grading the property to soil spreading and then we'll either lay down sod or start your new lawn right from seed if you'd like to do it that way.
New Lawn Installations St. Louis, MO
Lawns for new construction
Lawns for property developments
Planting new lawns with grass seed
Installing new sod lawns
Lawn replacement and restoration
Lawns for commercial or public properties
Sod Or Seed For Your New Lawn?
Many of our clients looking to install a new lawn ask us this question.  Really it comes down to two things.
 What is your budget for the project?
 How soon do you need a new lawn?
With sod, you're paying a higher price for the grass but that's also because someone else has already grown and cared for it.  Grass seed is much less expensive but you're going to be the one who will have to water and care for it until it's mature.  This takes time.  Which brings us to our next point.
If time is of the essence and you're under a tight time line to have grass installed than sod is really your best option.  Once the surface has been prepared your new lawn can literally be rolled out and it's going to look good immediately.  After a week or two of watering you won't see the lines of the individual rolls anymore and your lawn will look fantastic.
How Our New Lawn Installation Process Works
We've installed dozens and dozens of new lawns for new homes and property development throughout St. Louis and we are happy to get your new lawn installed by using ready-to-go sod or planting your new grass from seed.
We start with our initial consultation and accurate measurements of your property.
We assess the existing soil and take note of any grading/drainage issues.
We will bring in top soil and spread as needed to ensure uniformity.
We can have irrigation and underground sprinklers installed at the same time.
We then lay your turf or plant your grass as promised.
The end result is a beautiful, lush green lawn!
For most average sized lawns this entire process can be completed in just 1-3 days.  For much larger residential lawns or commercial properties the process will take longer but the end result is exactly the same.  You're going to end up with a beautiful, lush green lawn.
Why Choose Ireco LLC For Lawn Installation?
We understand that you have many landscaping contractors to choose from throughout the St. Louis area.  We just want you to know that when you choose to work with Irreco you are partnering with a small, locally owned business that has many years experience installing and maintaining new lawns from both sod and planting from seed.
You can expect knowledgeable, reliable lawn maintenance services from a company that cares about your property and our local reputation.
If you'd like to get the process started then please give us a call (314) 246-0099 or fill out our online contact form and we'll get back to you right away (usually the same day).
We can then organize a time for our lawn installation expert to visit your property and assess it, take accurate surface measurements, answer any questions you might have about getting a new lawn and then provide you with a competitive estimate to get your lawn looking the best on your street.